Cricut Beginner Must-Haves
What Cricut Essential Tools do you really need for your new Cricut machine? When you first start using your Cricut machine, there are tools and supplies that you may not know you need until you are deep into a project. Sadly, this happened to me when I first started using Cricut. That's why I put together this list with 12 Must-Have Cricut Beginner Tools and Accessories so you can make the most of your Cricut projects and create with ease. Keep reading to find the Cricut Beginner must-have items to get the most out of your Cricut machine!
If you're curious (or in a hurry)…
It's an excellent Cricut Machine and yet, you'll also find that it is one of the cheapest options you'll find online.
It's available in several colors and gets great reviews. If you can get it for under $300, grab it. That's one heck of a deal on a Cricut machine! See color choices, check the current price & read reviews here.
My favorite online resources to find SVG files to make Cricut craft projects:

–>>Click here to see the latest bundle with the best SVG files at Design Bundles!
–>>Click here to get Unlimited access to over 4 million fonts and designs for just $1!
What tools do you need for a Cricut?
Having the right Cricut Essentials makes creating projects with your Cricut Machine so much easier! When you first start using a Cricut machine, you don't consider the tools you might need! For example, tweezers that handle delicate parts to the Cricut EasyPress for foolproof iron-on. Every Essential Cricut Tool makes a great project even greater, every step of the way.
I up together this list with the Cricut Tools & Accessories I recommend so you can use your Cricut machine to the best of your ability!
What do I need for Cricut Explore Air 2?
Access to a computer, tablet, or mobile phone
Cardstock
1. Access to a computer, tablet, or mobile phone
Do you need a computer to use a Cricut machine?
A computer is recommended, however, you can access Cricut Design Space and a Cricut Explore Air machine through mobile devices (iPad, iPhone, and Android devices). I highly recommend using a computer with Cricut Design Space and a Cricut Machine because you will have the full design options in Design Space and your machine needs to be close by to cut (even if you are using wireless Bluetooth).
2. Cricut Design Space App
What is Cricut Design Space?
Cricut Design Space is the program you will need to design and cut your Cricut projects. When you set up your Cricut machine, you will need to install Cricut Design Space. All Cricut machines come with Design Space, their free, easy-to-learn design software. It's cloud-based so you can access your files from any device, any time. Start on your phone, continue on your laptop, and even work offline – all without breaking stride. From there you have the option to arrange a design from scratch or select from thousands of ready-to-make projects. Place your material on a mat, load it in the machine, and press Go. The machine handles the rest.
Design Space features tons of ideas to kickstart your next masterpiece. Browse and play with thousands of images, fonts, and ready-to-make projects. Since Cricut is adding more all the time, you'll always find something fresh, new, and inspiring.
–>> Learn how to use Cricut Design Space in this post
3. Variety Pack of Cutting Mats
I suggest having a variety of cutting mats that are customized to match the weight of commonly used crafting materials. With three different mats specifically designed to work with different weights of materials, you can ensure success in all your projects.
–>>Get the Cricut Machine Mat Variety Pack Here!
4. Cricut Basic Tool Set
You will thank me later for telling you to just get the Cricut Tool Set instead of buying each tool individually! The tools included in the Cricut toolset are all helpful when using your Cricut machine.
–>>Get the Essential Tool Set Here!
5. Deep Cut Blade
I use the Deep Cut Blade for everything! In fact, I had a deep cut blade in my machine for over a year without needing to change it (and I cut A LOT of materials for my shop and blog!).
I swear by the deep cut blade and so do others!
–>> Go here to get the Cricut Deep Cut Blade
6. Cricut EasyPress
I highly recommend purchasing the Cricut Easy Press if you plan to do any iron-on or heat transfer projects. The Cricut Easy Press will make your Cricut DIY's so much easier!
The Cricut Easy Press comes in 3 different sizes, however, I own the 9 x 9 and it's the perfect size for most projects.
–>>Get the Cricut Easy Press here!
7. Cricut EasyPress Mat
If you purchase the Cricut Easy Press, don't forget to get the coordinating Easy Press Mat, which will protect your surfaces and projects from burning.
Alternatively, you can use a folded towel, however, the mat is sleek and easier to store in the craft room 😉
–>>Get the Cricut Easy Press Mat Here!
8. Oracal 651 Permanent Vinyl 
Yes, I know… if I'm promoting Cricut products, why aren't I promoting Cricut vinyl?
I've been using Cricut since 2013 and after many crafts using different brands, I found an adhesive vinyl that works best for me and my needs and that is Oracal 651 vinyl.
Oracal 651 is a permanent vinyl (versus Oracal 631 which is non-permanent).
I use Oracal 651 for EVERY vinyl decal I make. Why? Because although it's permanent, you can still remove Oracal 651 vinyl.
I prefer to use Oracal 651 vinyl because it's waterproof as well. This means anyone that purchases a vinyl decal from my shop can use it on mugs, cups, water bottles, etc, and still hand-wash items. They can also use the decal outside, on a mailbox, or car window because it's waterproof.
I stock up on Oracal 651 when my Favorite Online Vinyl store has a sale and offer cheap or free shipping.
I typically update my followers on Instagram when there is a vinyl sale so be sure to follow me on Instagram you can get the deals too!
–>> Go here to get Oracal 651 Vinyl
HTV or Heat Transfer Vinyl is just another name for Iron-On Vinyl. I prefer Siser HTV for the same reasons I prefer Oracal 651. I've found it's easy to work with and you can find it discounted at my Favorite Vinyl Shop!
I typically update my followers on Instagram when there is an HTV sale so be sure to follow me on Instagram you can get the deals too!
10. Clear Contact Paper
If you plan to use vinyl then you need Clear Contact Paper (also called Transfer Tape) to complete your Cricut project. Your Cricut machine can cut the vinyl shape that you create in Cricut Design Space but how do you get that pretty, delicate vinyl on the surface you wish to place it?
That's where Clear Contact Paper comes in.
You place a piece of clear contact paper over the vinyl image, smooth out, then peel back the clear contact paper so the vinyl is attached to the clear contact paper instead of the backing paper.
I prefer Contact Brand Clear Contact Paper (it's called Magic Cover at Dollar Tree).
Many of my shop customers have given 5-star reviews for my decals because the contact paper is mess-free and easy to apply. Many other contact papers can leave a sticky residue or is too strong or not strong enough.
–>> Go here to get Contact Brand Clear Contact Paper
11. Cardstock
All of the first projects I made with my Cricut machine had cardstock as the main material. You can make many Cricut projects using cardstock, just to name a few:
Greeting Cards
Gift Tags
Paper Lanterns
Banners
Stencils
And More!
12. Cricut Access Membership
What is Cricut Access?
You may have seen or heard about Cricut Access from Cricut or another blogger. Cricut Access is a membership that gives you 10% off your Cricut purchases (and various other offers and discounts) and access to thousands of images and fonts in Cricut Design Space.
I have a Cricut Access Membership, which provides me with thousands of free images to come up with some Cricut craft ideas. Be sure to check Cricut Design Space for some free Cricut projects! Some of the free Cricut DIY projects in Cricut Design Space can be used to sell (which makes the membership fee worth it in my opinion!).

My favorite non-Cricut brand materials
You can find other brands of vinyl, iron-on, contact paper, and more outside of Cricut.com. A few of my favorites are: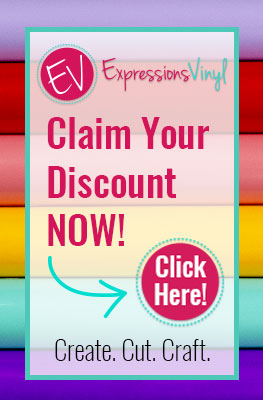 Which Cricut is the best for a beginner?
–>>If you want a Circut Machine but aren't sure which machine is for you, be sure to read this post, How to Choose Which Cricut Machine is Right for you.
New to Cricut?
–>>Want more tips on finding inexpensive Cricut supplies? Read this post, How to Save Money on Cricut Craft Supplies.
–>>Check out this HUGE list with 30 Cricut Supplies From The Dollar Tree!
Making personalized gifts, cards, home decor, farmhouse signs, and more is easy with a Cricut Explore Machine.
✅ This is the
 Cricut Machine that I own and use it for everyday materials. 
I also 
have this machine
 but I only use it to cut fabric 
Learning how to use your Cricut is really easy and fun once you get the hang of it. If you don't have a Cricut Access Membership, I highly recommend it. I've had a Cricut Access Membership for years and it's definitely worth the cost for all the benefits!
–>>Check out this HUGE list with 32 EASY Cricut Projects For Beginners!
My favorite online resource to find SVG files to make Cricut craft projects is DesignBundles.net!

–>>Click here to see the latest bundle with the best SVG files online!
Be sure to subscribe to get my emails and updates with more free SVG files to use with your Cricut machine!
Cricut Craft Room Organization Ideas: Cheap And Space Saving
Pin this Cricut Tutorial for later…
Psssssttt…Right now I'm offering FREE access to our Digital Resource Library to all of our newsletter subscribers.  Your private access includes dozens of free printable crafts, home decor and organization guides.  Hurry up and grab your freebies here!  (Access instructions are sent after subscribing).
Disclaimer: This post may contain affiliate links or a sponsored post. All opinions are always 100% mine and I don't partner with any product or company that I don't use and love. Please see our Full Disclosure for more information.
Cricut Supplies Must-Have Accessories