Cheap Cricut Craft Room Organization Ideas
I use lots of products in my craft studio, but my favorite has to be my Cricut supplies. Cricut doesn't make it easy to organize all of your vinyl, cutting mats, tools, and other crafting equipment. I came up with some DIY organization ideas using Dollar Tree containers to keep everything neat and tidy. Here are some tips for storing and organizing it all. Keep reading and watch the video Tour to see my Cricut Craft Room Organization Ideas!
CRAFT ROOM LINKS
For my craft room, I used inexpensive storage containers and bins to organize my Cricut essentials. It's space-saving and cheap. I linked everything below and include detailed instructions below on how I organized the bookcases.
Cricut Supplies Shown
My favorite online resources to find SVG files to make Cricut craft projects:

–>>Click here to see the latest bundle with the best SVG files at Design Bundles!
–>>Click here to get Unlimited access to over 4 million fonts and designs for just $1!
Be sure to subscribe to get my emails and updates with more free SVG files to use with your Cricut machine!
Want to see my latest DIY videos in Real-Time? Follow me on Instagram, YouTube, and TikTok!
–>>You can follow me on Instagram here 
Cheap Cricut Craft Room Organization Ideas
Watch the video below to see a full tour of my Craft Room!
Our craft room and home office are combined in our formal living room. We don't have a use for a formal living room or dining room so we use both spaces for our home office and craft room.
The bookcases with my craft supplies are on a small wall and one bookcase sticks out from the wall, separating the office from the sitting room area (we still consider the sitting area our office but it has a pull-out sofa so we can use it as a guest room as well).
We added a floor-to-ceiling curtain to separate the rooms and create a wall divider.  We secured the bookcases to the wall (and to each other) with the parts included in the Ikea bookcase package.
Organizing a Small Craft Room
I used to have several bins and baskets on this bookcase and all my craft supplies were organized in the labeled bins, but this system is much better! I can finally see all the craft supplies that I have to work with and have color-coded everything in a gorgeous layout.
Dollar Tree Craft Room Containers
I've had many questions about the containers and 99% of the containers are from Dollar Tree.
You'd be surprised at what you can find at Dollar Tree to organize your home! I highly recommend you order multiple items online, otherwise, you will make several trips to several stores looking for enough containers to organize your craft room. It took me a week to find everything and trips to 5 different stores.
At the time I took these pictures, I had not removed the DT labels yet, hehe.
The Scalloped Containers are perfect to hold up to 5 rolls of vinyl (I removed the cardboard insert and wrapped mine with rubber bands so they don't take up too much space).
My Heat Transfer Vinyl is stored on this shelf in the scalloped containers.
The Candy Jars are perfect to hold lots of small items and I used them to hold pom poms, wood beads, and small ornaments.
I had A LOT of vinyl so I used larger containers from a Home Edit container bundle to organize my rolls of Cricut vinyl.
I used several Dollar Tree Clear Drawer Organizers to hold small items that I color-coded with the rest of the shelves.
Small Felt craft supplies…
Washi Tape….
Popsicle Sticks… you can find all of these small craft supplies at Dollar Tree!
Organize Cricut Vinyl Scraps
I have a shelf for Cricut Joy vinyl and scrap vinyl. Some of the rolls are Cricut Joy Smart vinyl (the ones with the white edge) and the rest is larger pieces of scraps that I cut evenly (5.5 inches) and rolled up to use later with my Cricut Joy Machine or if I need a larger scrap for my Cricut Explore Air 2 and 3 Machines.
I use Dollar Tree Envelope Pouches to organize smaller vinyl Scraps.
I saw this hack on TikTok (I don't recall who shared it to give credit, sorry!)… just attach the color of the vinyl on the tag. So simple and keeps everything neat and tidy!
These vinyl scraps are perfect to use with the Cricut Joy Machine.
Speaking of the Cricut Joy Machine, I have mine tucked away in a case on the bottom shelf with the other machines. My Cricut EasyPress Mini is also in this storage bag.
I store all my Cricut cutting machines on the bottom shelf because they are the heaviest item on the shelves.
Cricut Cutting Mats Organizing Idea
I used Dollar Tree Adhesive Hooks to hang my Cricut cutting mats on the backside of the bookcase that sticks out from the wall. You don't see them at all when the curtain is closed!
Cricut Craft Room Bar Carts
I have other craft machines on a bar cart (this one is collapsable) which holds my Cricut Autopress, our color printer/scanner, and my sewing machine. The Cricut AutoPress is very heavy and having it on a moveable bar cart makes it easier to move around my craft room if I need to.
Small Cricut Tools Organizers
I purchased these Cricut Tool Organizers organizers from Uniquely Why Not. They are very affordable and come in many different colors to match your craft room. I went with rose gold (even though I don't have any machines in rose gold, lol). I liked the rose gold color to match our office decor.
These Cricut organizers hold markers, blades, and Cricut basic tools… I got the table-top trash can as well. I highly recommend these if you have a Cricut machine!
Cardstock Bookcase Organizer
I used a narrow Billy Bookcase to organize several shelves on cardstock and other 12 x 12 materials. I had to attach this bookcase away from the wall by around 1 inch and I did not attach the backing to the bookcase so the sheets would fit inside. The bookcase fits 11 inches, so if you attach the back and prop right against the wall, any 12 x 12 materials will not fit.
Then I picked up a sheet of Hardboard (similar to a chipboard type of material for my shelves because it was cheaper and still sturdy enough) and cut 14.5″ x 12″ squares shelves to fit inside the bookcase.
I used plastic shelf pins (around $1.50 for a pack of 8) and drilled the bookcase holes slightly bigger to fit the shelf pins.
I used a leftover Home Edit Bin to organize 8.5 x 11 cardstock on the shelf below.
Craft Room Ribbon Organization
I organized my ribbon by using a dowel at the top of the bookcase and drilled the holes larger to accommodate the width of the dowel.
Craft Room Yarn Organization
I organized my yarn using the Home Edit containers that came in a bundle and color-coordinated each bin.
Sewing Supplies Craft Room Organization
I organized my sewing supplies by color in the Dollar Tree Trifle Bowls, including:
Sewing Thread
Sewing Bobbins
Bias Tape
Lace
Rick Rack
Embroidery Thread
Behind each trifle bowl is a Dollar Tree basket with larger sewing items that don't fit in the bowl. I didn't want to waste the space on the shelf behind the Dollar Tree containers so I added the baskets hidden in the back.
Organizing Felt in the Craft Room
I had an extra shelf on my bookcase so I used it to organize the felt in my craft room. Some of my felt pieces are stiff and some are easily rolled up. I did place some felt flat on the shelf and rolled the rest.
I have more Ikea bins with fabric and other large sewing items, which are stored in the cabinets in the office sitting room.
Paint Organization in the Craft Room
I organized my paint in coordinating colors in Dollar Tree baskets, facing outward so I can easily see the paint colors. I had space behind the baskets which I used to organize:
Paint Brushes
Sponge Brushes
Paint Markers
Larger Paint Tubes
Craft Room Organization for Other Items
I used a Dollar Tree catering tray and several small candy jars to organize smaller items, including:
Small wood beads
Magnets
Extra Bobbins
Googly Eye Balls
Buttons
Safety Pins
I used a tray/plate organize to store pre-made envelopes that I use with Cricut-made greeting cards.
Craft Table 
I used an Ikea table with a larger piece of plywood on top and Dollar Tree marble contact paper as my craft room table. This table used to be our dining room table but I found my kids were often doing crafts and homework at the table (and ruined the top) so I moved it into our home office and covered it with contact paper.
I also use this table to video record DIY projects and take pictures of my creations. I use a mobile DIY tripod that my hubby made me that can attach to the table to record videos, etc.
The organizer on the center of the table is a thrift store find and organizes supplies for my kids to use.
Home Office Craft Room Combination
Our home office desk workspace is on the opposite wall. This is what it looks like on a typical day… no staging other than cleaning up papers on my hubby's desk, lol!
You can see how we decorated this wall in this post.
Shop Our Home Office

Cricut Supplies Shown
Wrap up about this Cricut Craft Room using Dollar Tree Products
Are you in the market for a cheap and space-saving craft room organization system? These ideas and organization hacks will help you create the perfect Cricut Craft Room to suit your needs. I spend a lot of time with my Cricut craft supplies. These are cheap, easy, and space-saving ways to organize craft supplies in my Cricut Craft Room. Use the Dollar Tree supplies mentioned in this tutorial to organize Cricut craft supplies, sewing supplies, and art supplies in one place!
The Total Cost for this Craft Room Organization project (not including craft supplies or power tools) was $750 (including the cost of the 3 bookcases).
Pin this post for later…
–>>>>>>Watch the Video to see my Craft Room Tour
SHOCKING Cricut Organizing Secrets!
Cricut doesn't make it easy to organize all of your vinyl, cutting mats, tools, and other crafting equipment. I came up with some DIY organization ideas using Dollar Tree containers to keep everything neat and tidy. Here are some tips for storing and organizing it all.
Print
---
New to Cricut?
Here are some Cricut Basics!
–>>If you want a Circut Machine but aren't sure which machine is for you, be sure to read this post, How to Choose Which Cricut Machine is Right for you.
–>>Want more tips on finding inexpensive Cricut supplies? Read this post, How to Save Money on Cricut Craft Supplies.
What Cricut Accessories Do I Need?
Cricut Essentials make putting the pieces together a joy. From tweezers that handle delicate parts to Cricut EasyPress for foolproof iron-on, every Essential makes a great project even greater, every step of the way.
These are the Cricut Tools & Accessories I recommend for the serious crafter:
Cricut Easy Press
I highly recommend purchasing the Cricut Easy Press if you plan to do any iron-on or heat transfer projects. The Cricut Easy Press will make your Cricut DIY's so much easier!
The Cricut Easy Press comes in 3 different sizes, however, I own the 9 x 9 and it's the perfect size for most projects.
–>>Get the Cricut Easy Press here!
Cricut Easy Press Mat
If you purchase the Cricut Easy Press, don't forget to get the coordinating Easy Press Mat, which will protect your surfaces and projects from burning. Alternatively, you can use a folded towel, however, the mat is sleek and easier to store in the craft room 😉
–>>Get the Cricut Easy Press Mat Here!
Cricut Bright Pad
The lightweight, low-profile Cricut BrightPad makes crafting easier while reducing eye strain. It illuminates fine lines for tracing, cut lines for weeding, and more.
–>>Get the Cricut Bright Pad Here!
Cricut Cutting Mats
I suggest having a variety of cutting mats that are customized to match the weight of commonly used crafting materials. With three different mats specifically designed to work with different weights of materials, you can ensure success in all your projects.
–>>Get the Cricut Machine Mat Variety Pack Here!
Cricut Tool Set
You will thank me later for telling you to just get the Cricut Tool Set instead of buying each tool individually! The tools included in the Cricut toolset are all helpful when using your Cricut machine.
–>>Get the Essential Tool Set Here!
My favorite non-Cricut brand materials
You can find other brand vinyl, iron-on, contact paper, and more outside of Cricut.com. A few of my favorites are: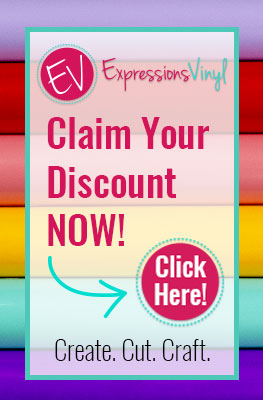 Learning how to use your Cricut is really easy and fun once you get the hang of it. If you don't have a Cricut Access Membership, I highly recommend it. I've had a Cricut Access Membership for years and it's definitely worth the cost for all the benefits!
✅ This is the
 Cricut Machine that I own and use it for everyday materials. 
I also 
have this machine
 but I only use it to cut fabric 
My favorite online resources to find SVG files to make Cricut craft projects:

–>>Click here to see the latest bundle with the best SVG files at Design Bundles!
–>>Click here to get Unlimited access to over 4 million fonts and designs for just $1!
---
CRICUT ARTICLES YOU MIGHT ALSO LIKE…
32 Easy Cricut Projects for Beginners – Free Cricut Projects!
30+ Cricut Craft Supplies From Dollar Tree (Tools, Materials, & More!)
Pin this tutorial for later…
Psssssttt…Right now I'm offering FREE access to our Digital Resource Library to all of our newsletter subscribers.  Your private access includes dozens of free printable crafts, home decor and organization guides.  Hurry up and grab your freebies here!  (Access instructions are sent after subscribing).
Disclaimer: This post may contain affiliate links or a sponsored post. All opinions are always 100% mine and I don't partner with any product or company that I don't use and love. Please see our Full Disclosure for more information.
Cheap Cricut Craft Room Organization Ideas