Dollar Store Easter DIY
I'm all about saving some money and DIYing gifts to give to others, including my kiddos! Instead of spending a ton of money on Easter candy or chocolate to fill their Easter baskets, I decided to make a few crafty gifts that I knew they would love (and share some of the awesome ideas I found with you too!). Some of these are great to give adults too! Check out these 40 DIY Dollar Store Easter Basket Ideas so you can save some money while giving a unique Easter gift this year!
40 DIY Dollar Store Easter Gift Ideas
These Dollar Store Easter basket ideas are easy to DIY and some of these are Dollar Store crafts you can buy ready-made from the Dollar Store. Be sure to read each of these 40 items description and the supplies needed (I've included supplies below for your convenience!). Each of the Dollar Store Easter crafts tutorials is linked below each image. These simple Easter basket ideas are inexpensive to fill a large Easter basket for children and adults 🙂
If you've ever wondered what to put inside an Easter basket, there are plenty of ideas in this post (40 total ideas) and all of the supplies can be found at the Dollar Store! It's amazing what you can still buy for a dollar these days!
UPDATE: This post has been so popular that I wrote another one with 25 MORE Easter Basket Gift Ideas from the Dollar Tree!
Dollar Store Mason Jar DIY Easter Basket Gifts
Mason jar gifts are all-the-rage and the best part about giving a mason jar gift is the wrapping paper (the jar) is reusable!
DIY Bunny Treat Jars
Add any chocolate or candy to these DIY bunny treat mars jars from Ideal Home. These DIY bunny treat mason jars are so "sweet" filled with candy but you can also fill them with small toys or school supplies from the Dollar Store! I love how she painted them different colors and used a different bunny on the lid of each jar.
If you want to create these mason jars with a farmhouse style and neutral color scheme, you could paint the lids a soft green, light teal, and baby pink. Stack homemade treats inside (like cookies, brownies or muffins) and give to a neighbor or teacher!
Dollar store supplies to make DIY bunny treat jars:
Painted Bunny Treat Jars
These painted bunny treat jars from Happiness is Homemade is a simple craft that can be made in less than an hour. I made similarly painted treat jars for Valentine's Day here and I used them in my Valentine's day home decor for years to come. Add fabric and a cute lid (these are the lids she used here) with a fun treat inside. Add nuts, dried fruit, homemade goodies or a small gift inside.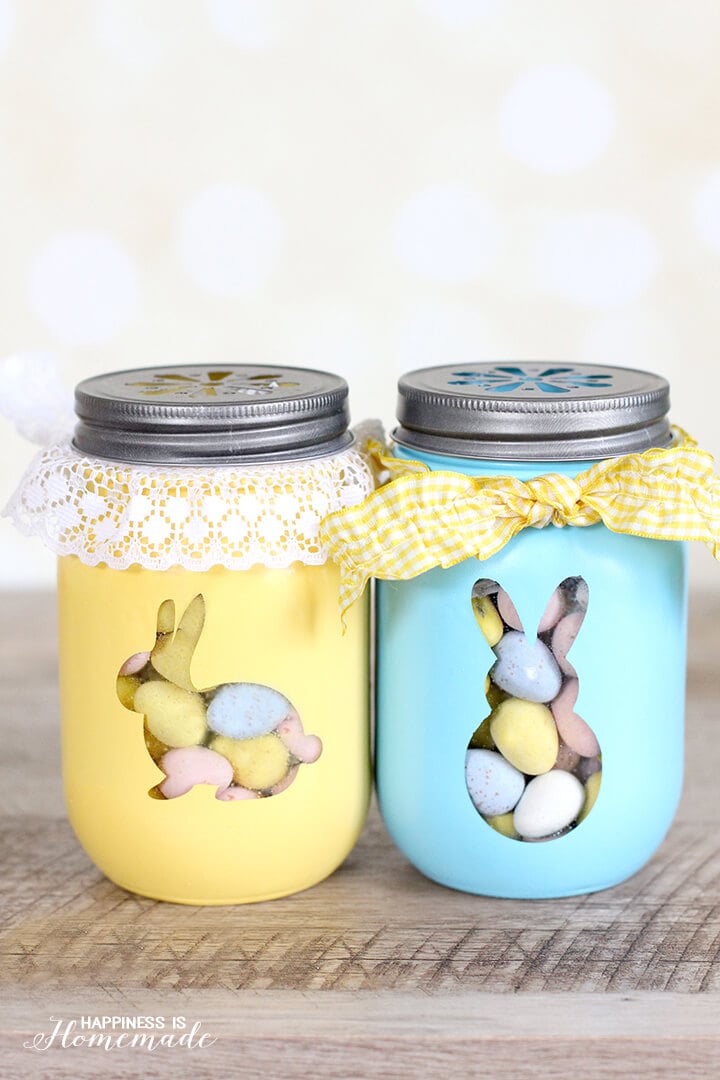 Supplies to make Painted Bunny Mason Jars:
Chocolate Bunny Jar
Thi is such a cute way to give someone a classic chocolate Easter bunny! Place a chocolate bunny in a jar with candy grass and jelly beans or candy eggs. Finish the jar with a ribbon! See how to make this craft from Crafty Morning here.
Dollar store supplies to make a chocolate bunny jar:
Party Bunny Jar
These "party in a jar" bunnies are super cute from Pizzazzerie (check out her book with more jar ideas!) She put marshmallow eggs inside the jar but you can put other treats and healthy snacks wrapped in pink tissue paper. Paint the lids pink, glue on some paper ears, and make a cute bunny face using pipe cleaners and wiggly eyes from the Dollar Store!
Supplies to make the Party Bunny Jars:
DIY Edible Easter Basket Gifts
One of my favorite items that I received in my Easter basket as a kid was candy! Who doesn't love a sweet gift from the Easter Bunny? Chocolate eggs were the best but these other edible Easter basket gifts ideas from the Dollar Store will inspire you to get creative with your presentation of treats!
Hershey Kisses Carrot
If you want to give chocolate Hershey kisses in Easter baskets, try making these easy Hershey Kisses carrot Easter treats from I Heart Arts and Crafts. Just add green tissue paper and folded orange cardstock to make this cute gift.
Dollar store supplies to make:
Easter Bunny Treat Bags
I love cute paper treat bags. They are so easy to make a quick gift by adding some ribbon. Make these Easter bunny treat bags from Today's Creative Life personalized with a bunny cut-out and ribbon.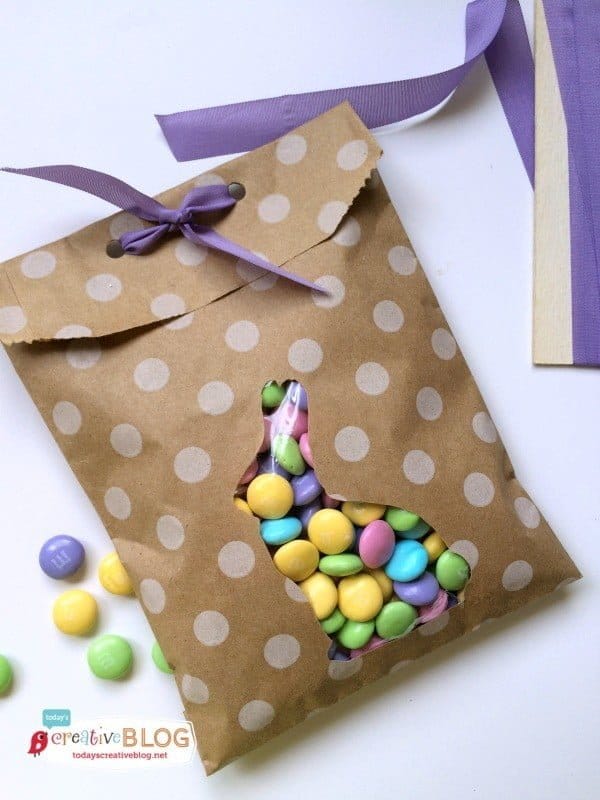 Supplies to make the Easter Bunny Treat Bags:
Easter Tic Tacs
Add some cute Easter labels to tic tacs from Somewhat Simple for an easter Easter basket gift idea.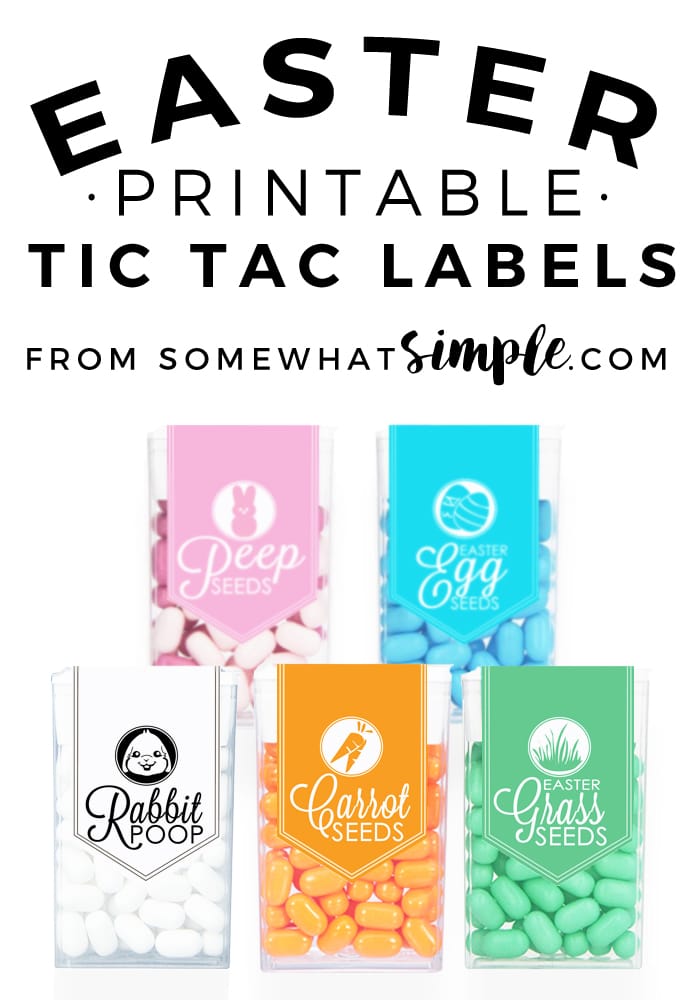 Supplies to make:
Bunny Fruit Bags
These Bunny Fruit bags are so simple to make, all you need is some paper bags (patterned or colorful bags), scissors, twist ties or ribbon. Add your favorite fruit or veggies (apples, oranges, lemons, limes, avocados & more!). Give healthy gifts with these creative paper fruit bags from A Subtle Revelry.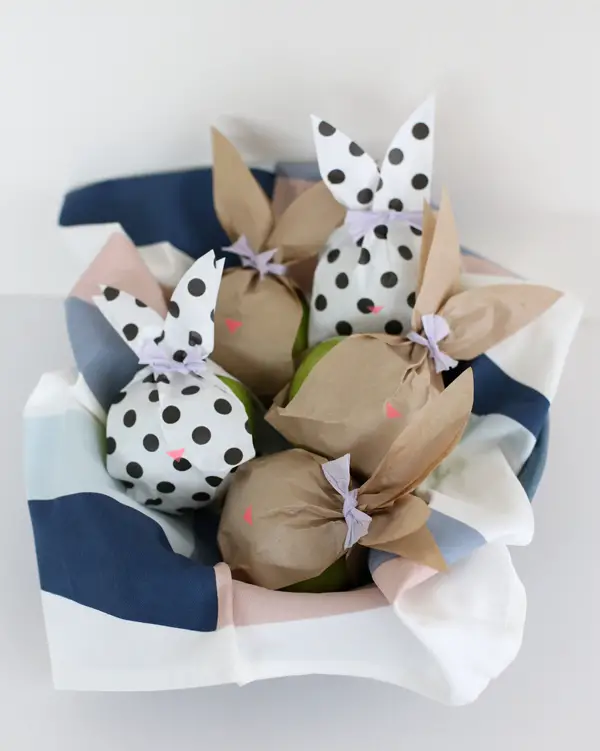 Supplies to make the Bunny Fruit Bags:
Cutie Carrots
This healthy treat uses cuties to make these cutie carrot treat bags from Smart School House. You just need cellophane cone treat bags and cutie oranges to make this healthy gift!
Supplies to make the Cutie Carrots:
Bunny Cookie Treat Bags
Bake some cookies and turn them into Easter basket gifts like Doodle Crafts! Wrap each cookie individually in cellophane and glue on Bunny ears and a nose for a simple, sweet gift.
Supplies to make Bunny Cookie Treat Bags:
Bunny Bubble Gum
My kids love bubble gum, especially double bubble! This bunny bubble gum gift can be made in 5 minutes and under $5 from Smart Schoolhouse. Glue on a pom-pom bunny tail to make this fun DIY Easter basket idea.
Supplies to make the Bunny Bubble Gum:
Strawberry Easter Eggs
Who wouldn't love receiving these strawberry "Easter" eggs from Crafty Morning? She decorated her strawberries to look like Easter eggs after dipping them in white chocolate… genius!
Supplies to make Strawberry Easter Eggs:
Goldfish Carrot Treat Bags
Seriously, all kids (and even some adults) love goldfish crackers (you can't go wrong with this Easter gift idea)! Make these goldfish carrot treat bags using cellophane cone bags and Goldfish crackers from Clean and Scentsible.
Supplies to make Goldfish Carrot Treat Bags:
Cheeto-Carrot Treat Bags
If your kids don't like goldfish, maybe they like another popular orange snack…Cheetos 🙂  Make these Cheeto-filed carrots from DIY Craft Projects using cellophane cone treat bags.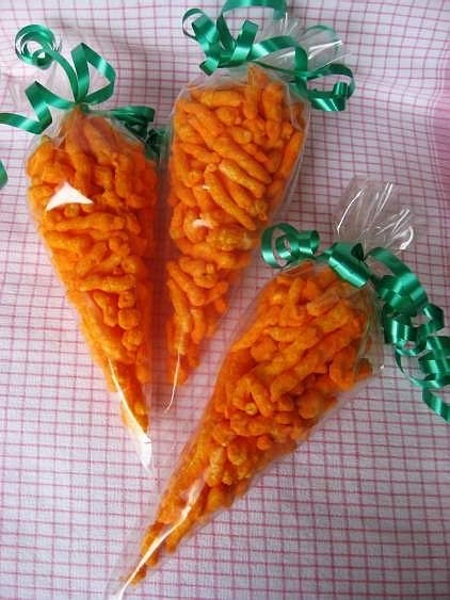 Supplies to make Cheetos carrot treat bags:
DIY Dollar Store Fabric Easter Basket Gifts
If you have extra fabric around, plus a few Dollar store supplies, these Fabric Easter Basket crafts won't take much at all to put together. Felt can be found at local craft stores for less than $1.00 and felt has many uses. My kids love receiving small stuffed animals and fabric items in their Easter baskets and these are super cute 😉
No-Sew Sock Bunny
No-sew projects are the best! This no-sew sock bunny also doubles as a boo-boo doll since it's filled with rice, you can heat it in the microwave and use as an instant heat pack! Make a no-sew sock bunny from Ann's Entitled Life.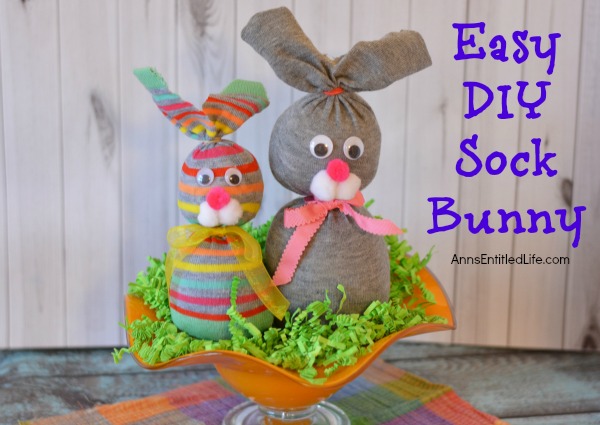 Supplies to make No-Sew Sock Bunnies:
Felt Bunny Treat Bags
Felt is a very inexpensive fabric but it also very durable to use for crafting! Very similar to craft foam, you can get several sheets for under $1.00. These felt bunny treat bags are made with a few simple stitches and candy inside. Make a felt bunny treat bag from Skip to My Lou.
Supplies to make a Felt Bunny Treat Bag:
Felt Carrot Pencil Holder
If you want to give non-candy gifts or something for the little artist, this felt carrot pencil case is an easy beginner sewing craft. Make these felt carrot pencil holders from Skip to My Lou.
Supplies to make a Felt Carrot Pencil Holder:
Soft Fabric Bunnies
Make soft bunnies for your kids from Sparkles of Sunshine I made these a few years back using brown felt and my kids still love them! Stuff them with filler, buckwheat, lavender, and other materials that smell good and create a mini comfort buddy for your little one.
Supplies to make Soft Fabric Bunnies:
Felt Treat Pouches
How cute are the lollipops in these felt eggs? These felt treat pouches from Raising Whasians can be filled with just about any treat but she added some wiggle eyes to the pops to look like peeps. A few simple stitches around these felt eggs and some embellishments is all you need to make this easy Dollar Store Easter craft.
Supplies to make Felt Treat Pouches:
Fabric Easter Bunny
This little felt sewn Easter bunny from Simple Made Pretty is too cute for words. My kids would love finding this in their Easter Baskets. Use materials found at the Dollar Store and make this fun project!
Supplies to make Fabric Easter Bunny:
Bunny Sachets
I love making sachets using dried chamomile, dried lavender, and dried roses. You can create sachets in any shape but these little bunnies are perfect for Easter. Make these easy bunny sachets from Craft Passion.
Supplies to make a bunny sachet:
Pom-Pom Bunnies
Pom-Pom animals are fun to make and these pom-pom bunnies from Wonderful DIY look super cute! Just add some felt cut ears, wiggle eyes and a pom-pom nose to yarn pom-poms. You can use a pom-pom maker or use your fingers to wrap yarn to create a DIY pom-pom.
Supplies to make Pom-Pom Bunnies:
Bunny Finger Puppets
Kids love playing with small objects and finger puppets let them use their imagination. These baby bunny finger puppets are made using the same pattern but different colors. Use felt to make some Easter bunny finger puppet gifts.
Supplies to make Felt Finger Puppets:
Felt Easter Egg Crayon Holder
This cute felt Easter egg crayon holder from Skip to My Lou is a simple and small gift that can be made very quickly with a few stitches. Cut various shapes in felt and rickrack or ribbon and glue to a felt egg.
Supplies to make a Felt Easter Egg Crayon Holder:
Dollar Store Crafty Easter Basket Gifts
These crafty items are so small and cute, they can be assembled in 5 minutes or less! You probably already have some of the supplies readily available in your home (clothespins, sandwich bags, etc). Your little ones will be so happy to help you make some of these crafty Easter basket items too!
Peek-A-Boo Clothespin
My little ones would love playing with this peek-a-boo clothespin from A Few Shortcuts. I like how she wrote a cute message )"anyone home?") on the side of the clothespin. This Easter craft is so simple and easy to make.
Supplies to make the Peek-A-Boo Clothespin:
Easter Butterfly Treats
This Easter Butterfly Treat bag is a simple clothespin craft using pipe cleaners, clothespins, and snack bags. Fill the snack bag with jelly beans and decorate the clothespin with a fun design and wiggle eyes. Make these Easter butterfly treats (source unknown) in 5-minutes or less!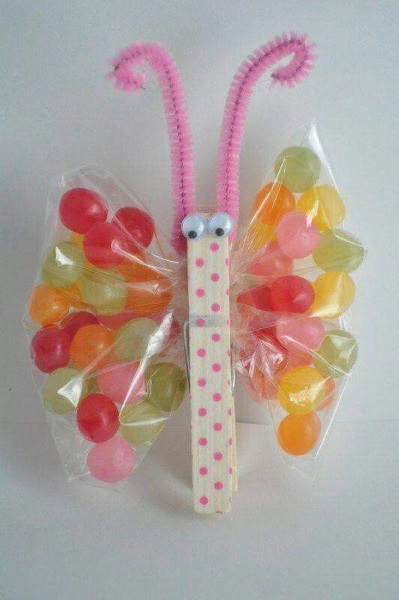 Supplies to make Easter Butterfly Treats:
Paper Carrot Favor Boxes
Sometimes a cute favor box is all you need to present a simple treat or small gift. Make these Paper Carrot Favor Boxes from Elle Claire Inspired.
Supplies to make the Paper Carrot Favor Boxes:
Easter Egg Playdough
This colorful playdough will brighten any Easter basket! The playdough is stored in plastic Easter eggs as a fun display! Make Easter Egg Playdough and free printable mats from Modern Parents Messy Kids.
Dollar store supplies to make egg play dough and mat:
Easter Egg Sidewalk Chalk
Easter is around the time when the weather starts warming up and sidewalk chalk is a must-have item for outdoor play. Make Easter Egg Sidewalk chalk from Skip to My Lou.
Supplies to make Easter Egg Sidewalk Chalk:
DIY Dollar Store Bath and Body Easter Basket Gifts
Whether you want to spoil your girlfriends, your tween, or yourself… these Dollar Store DIY Bath and Body Easter Basket Gifts are fun and unique!
Easter Egg Bath Bombs
Give these Easter egg bath bombs from Mom Foodie to someone that loves pampering! Create your own Spring scents using essential oils.
Supplies to make Easter Egg Bath Bombs:
Bunny Soap Molds
Make your own soap using bunny molds! Give this gift to someone who loves handmade soap and create your own scents using essential oils. Learn how to DIY bunny soap molds from Growing up Gabel.
Supplies to make Bunny Soap Molds:
Carrot Sugar Scrub
Make some sugar scrub and store it in a cellophane cone bag to make a "carrot." Try this DIY carrot sugar scrub from Oh My Creative.
Supplies to make sugar scrub:
Bunny Nail Polish
Give your bestie or tween her favorite color nail polish and turn the bottle into baby bunnies! Make nail polish bunnies from Beth-a-Palooza.
Supplies to make Bunny Nail Polish:
Dollar Store Easter Egg DIY Ideas
Decorating eggs during Easter is a fun activity and there are so many ways you can decorate eggs! Think outside the box and decorate eggs and hide them in Easter baskets as cute filler or gifts!
Googly Eye Easter Eggs
These googly eyes Easter eggs from GodFather Style have to be the easiest Easter eggs I've seen! Dye them in bright colors to make your own version.
Supplies to make Googly Eye Easter Eggs:
Plastic Bunny Eggs
Use a marker and pipe cleaners to make these cute bunny eggs. DIY plastic eggs into bunnies from Parents.com.
Supplies to make Plastic Bunny Eggs:
DIY Rae Dunn Easter Eggs
These Rae Dunn inspired Easter eggs are easy to make if you have a steady hand and a sharpie marker. Simple Made Pretty used her Cricut machine to make the decal letters. Just write your favorite phrases and Easter words on white craft eggs.
Supplies to make Rae Dunn Easter Eggs:
DIY Dollar Store Easter Basket Ideas
Bunny Flower Pot
Use this flower pot to give gardening them a gift basket or just add simple Easter treats to the pot. Make a Bunny flower pot and use as an Easter Basket from Joanne Fabrics.
Supplies to make the Bunny Flower Pot:
Fabric Covered Basket
Add your little one's favorite superhero or cartoon character fabric to any basket like Eclectic Mom Sense to personalize the basket and make it more fun! You can find Fat Quarter fabrics for $0.97 at Walmart!
Supplies to make a Fabric Covered Basket:
Candy Easter Basket
Skip the basket and use cadny to make your own "basket." Make a basket out of candy boxes like the Krazy Coupon Lady.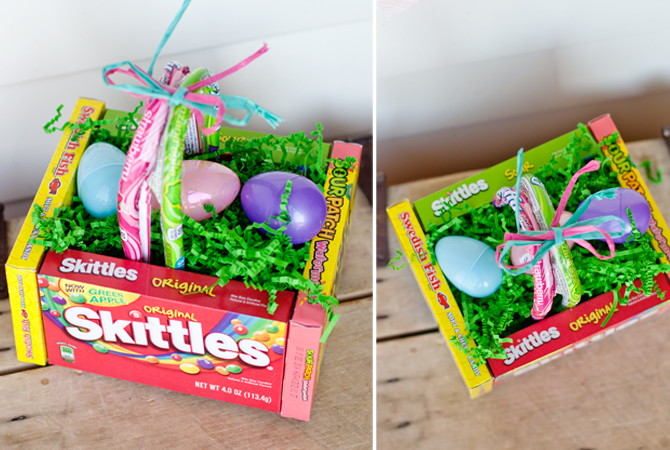 Dollar store supplies to make a Candy Easter Basket:
Conclusion to these Dollar Store Easter DIY Gifts
I hope this post gave you plenty of Easter DIY gift ideas. Save some money this Easter and have fun trying some of these creative Dollar Store Easter basket ideas children, toddlers, tweens, and adults! All of these Dollar Store Easter crafts tutorial links are included in this post with the full supply list needed. These are creative Easter basket ideas and most are simple Easter basket ideas and #5minutecrafts.
Easter Egg Hunt Signs
Kids will love this type of scavenger hunt clues combined with an outside Easter egg hunt! These signs can even work for an adult Easter egg hunt and make creative Easter egg hunt decor and fun Easter egg hunt ideas for toddlers!
–>>Get the Free Easter Egg Hunt Signs here!
Easter Bunny Feet Template
Surprise the kids on Easter morning by using these Free Printable Easter Bunny Feet Template to create bunny tracks through your home! I made the bunny feet with my Cricut Explore machine but you can find the free printable download for the bunny feet in this post!
–>>Get the Free Easter Bunny Feet template here!
25 Dollar Tree Easter Basket Gift Ideas
My Easter post with 40 Dollar Store DIY Easter Gift Ideas is so popular, I decided to write another post with Easter Gift Ideas From The Dollar Tree. This list contains even more awesome Easter Gift Basket Ideas that you can easily DIY or purchase from the Dollar Tree!
Pin this Dollar Store Easter Gift Ideas article for later…
Psssssttt…Right now I'm offering FREE access to our Digital Resource Library to all of our newsletter subscribers.  Your private access includes dozens of free printable crafts, home decor and organization guides.  Hurry up and grab your freebies here!  (Access instructions are sent after subscribing).
Disclaimer: This post may contain affiliate links or a sponsored post. All opinions are always 100% mine and I don't partner with any product or company that I don't use and love. Please see our Full Disclosure for more information.
Dollar Store Easter Crafts