Dollar Store Easter Basket Ideas
My Easter post with 40 Dollar Store DIY Easter Gift Ideas is so popular, I decided to write another post with Easter Gift Ideas From The Dollar Tree. This list contains even more awesome Easter Gift Basket Ideas that you can easily DIY or purchase from the Dollar Tree!
I'm all about saving some money and DIYing gifts to give to others, including my kiddos! Instead of spending a ton of money on Easter candy or chocolate to fill their Easter baskets, I decided to make a few crafty gifts that I knew they would love (and share some of the awesome ideas I found with you too!). Some of these are great to give adults too! Check out these Easter Gift Ideas From The Dollar Tree so you can save some money while giving a unique Easter gift this year!
Easter Gift Ideas From The Dollar Tree
These Dollar Tree Easter basket ideas are easy to DIY and some of these are Dollar Tree crafts you can buy ready-made from the Dollar Tree. Each of the Dollar Store Easter crafts tutorials is linked below each image. These simple Easter basket ideas are inexpensive to fill a large Easter basket for children and adults 🙂
If you've ever wondered what to put inside an Easter basket, there are plenty of ideas in this post and all of the supplies can be found at the Dollar Tree!
Easter Bunny Pudding Cups
These painted bunny treat jars from Passion for Savings is a simple craft that can be made in less than 5 minutes. I'm getting hungry for pudding just looking at these cute little DIY bunny pudding cups!
Supplies to make Easter Bunny Pudding Cups:
6 Pack of Vanilla Pudding Cups
Small Pink Pom-Poms
Pink Construction Paper
Googly Eyes
Scissors
Sharpie
Hot Glue
Printable Carrot Box
This is such a cute way to give someone a classic chocolate Easter bunny! Place a chocolate bunny in a jar with candy grass and jelly beans or candy eggs. Finish the jar with a ribbon! See how to make this craft from Party Mazing
Dollar store supplies to make the printable carrot box:
Printer Paper
Scissors
Glue
Lollipop Bunnies
These lollipop bunnies are super cute from One Little Project are adorable! Make a cute bunny face using a small pom-pom and wiggly eyes from the Dollar Store!
Supplies to make the Lollipop Bunnies:
Tootsie Pop/Blow Pop
Small White Styrofoam Craft Ball
Free Printable Easter Tic Tac Toe Game
Kids and adults will love playing this fun Tic Tac Toe Easter Game from Pleet and Pom. Print the freebie, cut to size, add some Easter M&M (or similar candy) to a cellophane bag for a cute little gift.
Dollar store supplies to make:
Printer Paper
Easter M&Ms
Cellophane Bags
Easter Slime
What kid doesn't like playing with slime?! Check out this Easter slime tutorial from Natural Beach Living to make a cute Easter basket gift!
Bunny Gumball Machine
These Bunny Gumball machines from HomeTalk are made using Dollar Tree supplies and are super cute to give with gumballs or candy inside!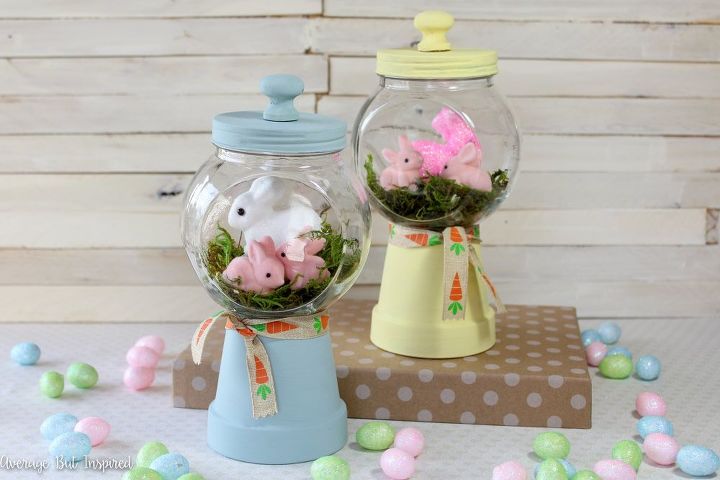 Printable Easter Fortune Teller
Remind your kids the true meaning of Easter with these prontable Easter fortune tellers from Path Through the Narrow Gate. I love the questions inside each fortune teller!
Easter Layered Rice Krispie Pops
Add this cute sweet treat from Yellow Bliss Road for an easter Easter basket gift idea.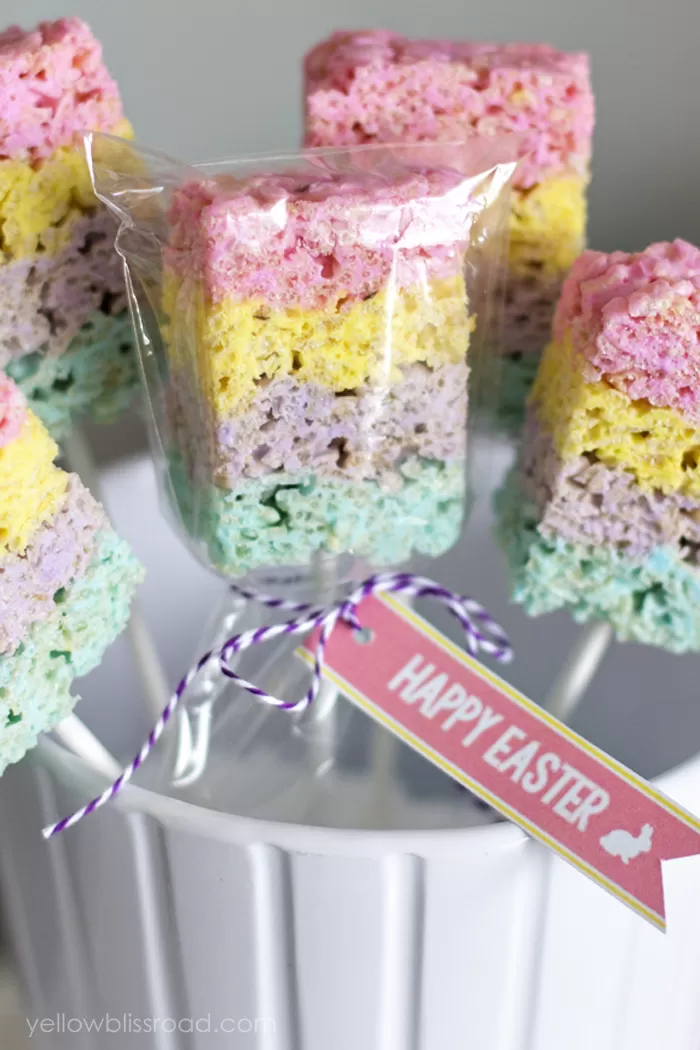 Peep S'Mores
Download the printable labels from Simplee Thrifty, add some peeps and s'mores supplies in a cellophane baggie for a cute gift!
Drawstring Bunny Bag
Make these sew-easy Drawstring Bunny Bags from Free Tutorial.  You just need scrap fabric, ribbon, a needle, and thread to make these cute little bags!
Jelly Bean Bracelets
Forget candy Bracelets when you can make and give these Jelly Bean Bracelets as a cute Easter basket gift. Artzy Creations has a simple tutorial showing you how to make the Jelly Bean bracelets here.
Bunny Pencil Toppers
Make some fun pencil toppers for Easter like Artzy Creations. My kids would love receiving these fun Easter DIY pencils in their Easter baskets!
Carrot Drawstring Bags
These carrot bags are sew easy to make using scrap fabric from Pattern Pile. Place small toys or candy inside for a cute little Easter Basket gift!
Bunny Tails
These Bunny Tails Treat topper Free printables from Frugal Coupon Living are cute and easy to make in minutes. Add mini mashmallows to a ziplock bag for a simple Easter basket gift idea!
Tin Can Bunny Planters
I would love to receive these little tin can bunny planters as an Easter Gift! What a great way to repurpose tin cans from We Know Stuff.
Bunny Treat Bags
Here's another bunny treat bag DIY but this one uses a small burlap bunny on the front of muslin drawstring bags making it a fast craft from the Cottage Country Chic.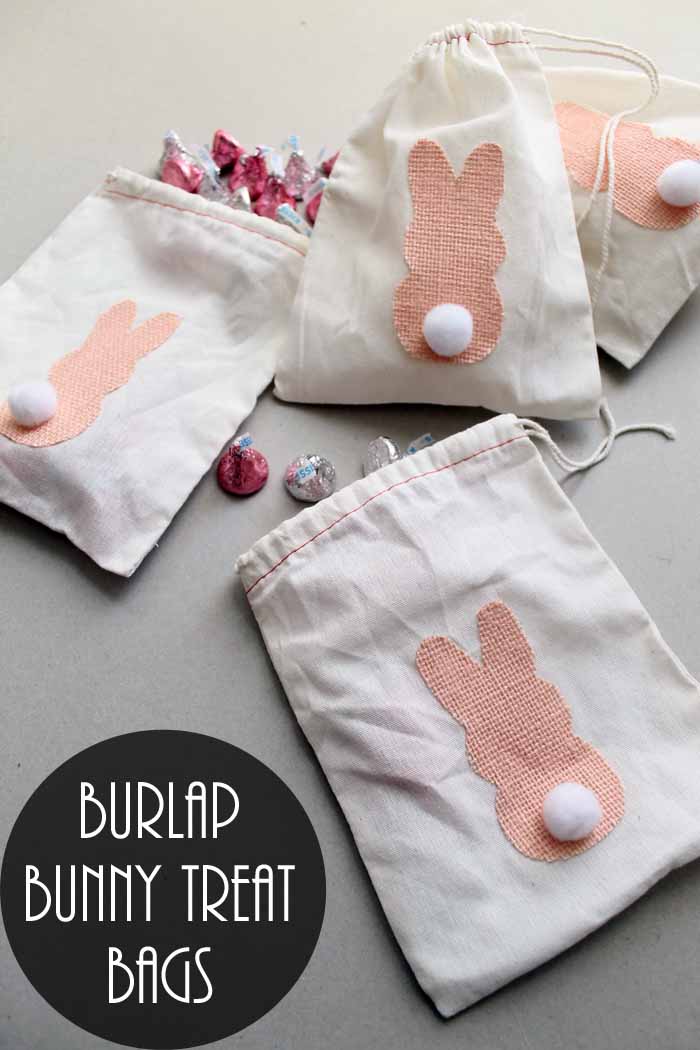 Felt Bunny in an Egg
This little bunny with that huge smile on his face is tucked in his little egg like a pouch. What a cute DIY Easter gift idea from Blue Bear Wood.
M&M Easter Cones
These M&M ice cream cone treats are so sweet! Take a cone cellophane bag and stuff with a sugar cone and M&M's for a candy Easter Basket gift idea from Oh For Sweetness Sake.
Easter Bunny Butt Oreo Pops
Reinvent the oreo cookie with this cute Easter Bunny Butt idea from See Vanessa Craft.
Bunny Bookmarks
If your kids love reading as much as mine do, they will love these cute bunny bookmark cards from Easy Peasy and Fun. 
Felt Bunny Peeps
How cute are these felt bunny peeps? These felt Peeps from The Maven are almost better than the sugary version! A few simple stitches around these felt peep pattern is all you need to make this easy Dollar Store Easter craft.
Supplies to make Felt Treat Pouches:
Printable Easter EOS Lip Balm Card
These EOS Lip Balm cards from Simple Made Pretty can be printed at home, just add an EOS lip balm!
Carrot Nail Polish
Give your bestie or tween her favorite color nail polish and turn the bottle into baby bunnies! Make Carrot nail polish from Cutefetti.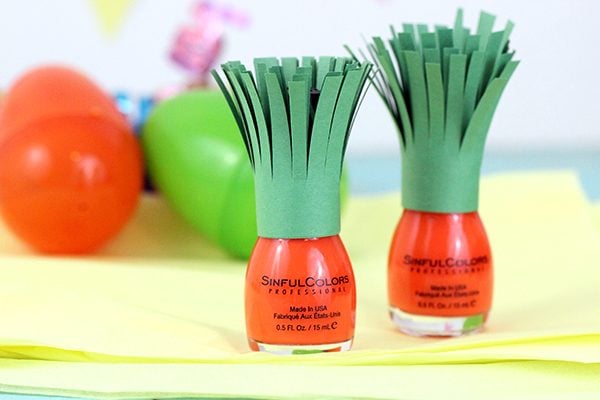 Supplies to make Bunny Nail Polish:
Green Construction paper
Scissors
Bunny & Carrot Rootbeer
This DIY Bunny and Carrot drink gift can be made for adults or kids (non-alcoholic version for kids!).
Dollar store supplies to make a Bunny & Carrot Drink gift:
6 Pack of bottle drinks
Small Pink Pom-Poms
Orange, Green, and Pink Construction Paper
Pink and White Pipe Cleaners
Googly Eyes
Scissors
Glue
Conclusion to DIY Dollar Store Easter Gift Ideas
I hope this post gave you plenty of Easter DIY gift ideas. Save some money this Easter and have fun trying some of these creative Dollar Store Easter basket ideas children, toddlers, tweens, and adults! These are creative Easter basket ideas and most are simple Easter basket ideas and #5minutecrafts.
40 MORE Dollar Store Easter Gift Ideas
–>>Check out these 40 DIY Dollar Store Easter Gift Ideas so you can save some money on Easter Gift ideas!
Easter Egg Hunt Signs
Kids will love this type of scavenger hunt clues combined with an outside Easter egg hunt! These signs can even work for an adult Easter egg hunt and make creative Easter egg hunt decor and fun Easter egg hunt ideas for toddlers!
–>>Get the Free Easter Egg Hunt Signs here!
Free Easter Bunny Feet Template
Surprise the kids on Easter morning by using these Free Printable Easter Bunny Feet Template to create bunny tracks through your home! I made the bunny feet with my Cricut Explore machine but you can find the free printable download for the bunny feet in this post!
–>>Get the Free Easter Bunny Feet template here!
Pin this post with 25 Dollar Tree Easter Gifts for later…
Psssssttt…Right now I'm offering FREE access to our Digital Resource Library to all of our newsletter subscribers.  Your private access includes dozens of free printable crafts, home decor and organization guides.  Hurry up and grab your freebies here!  (Access instructions are sent after subscribing).
Disclaimer: This post may contain affiliate links or a sponsored post. All opinions are always 100% mine and I don't partner with any product or company that I don't use and love. Please see our Full Disclosure for more information.