Cricut Craftfest 2023
Something no one tells you about crafting with a Cricut machine is the technical side of things. And if you do not have naturally strong skills with a computer (and even if you do), learning something like this can seem overwhelming and impossible when you are new to it or just trying to level up. But don't give up because I have something that will help you how to learn how to overcome that overwhelm and start to craft confidently with your Cricut machine. I'm so excited to invite you to the Cricut Craftfest2023 happening February 6-10!
At the Cricut Craftfest, you will learn everything from how to use Design Space to working with materials such as vinyl, paper, iron-on, wood, infusible ink, engraving, and more from 45 Cricut experts – including me!
You can learn all the exciting details about the summit over here, but here is a quick overview:
The summit will run from February 6th-10th.
Each day will be packed with talented speakers who are ready to help you confidently craft with your Cricut machine.
We've got a pop-up Facebook group where you'll find fellow Cricut besties, ask the speakers questions, and whatever else we come up with!
You can attend the summit absolutely free, but you can choose to grab the Cricut Craftfest All-Access Pass at any time.
The Cricut Craftfest All-Access Pass will give you lifetime access to the summit (meaning you get all the videos for life), plus project templates, video transcripts, and over $500 worth of exclusive Cricut bonuses from the speakers!
The All-Access Pass is currently being offered at a special price, and it will disappear for good once the summit is over, so start thinking about it now!
ARE YOU READY TO CONFIDENTLY CRAFT WITH YOUR CRICUT MACHINE?
Whether you are a beginner to Cricut or just looking for a supportive community to craft with, join the event and learn from 45 expert Cricut crafters who have been there, made that, and know-how to help you master Cricut crafting!
–>> Head over here to learn more and grab your ticket—more information will be sent straight to your inbox afterward.
My Cricut Workshop – How to Make a Felt Birthday Crown
Discover how to use the Cricut Maker Machine to make a personalized Felt Birthday Crown that can be worn at any age. Learn how to cut felt with the Cricut Maker and assemble the crown.
I'll be going over:
How to create a felt crown using the Cricut Maker Machine
What setting to use to cut felt material (and which felt is my favorite!)
How to assemble the felt crown
If you are ready to unlock JOY-filled crafting with your Cricut machine, then you can't miss these 30+ inspiring projects for all skill levels during this 5-day Cricut crafting event!
Be sure to grab your ticket to the summit if you haven't yet, and you will be given all the info you need to access the workshops!
Don't forget to check out all the other fantastic workshops available in the Cricut Craftfest!
👉Get your ticket to the Cricut Craftfest here!
Cricut Workshops featured in the Cricut Craftfest
–>>Grab your ticket this amazing event here
Watch the Video to See More Details About the Cricut Craftfest 2023!
New to Cricut?
Here are some Cricut Basics!
–>>If you want a Circut Machine but aren't sure which machine is for you, be sure to read this post, How to Choose Which Cricut Machine is Right for you.
–>>Want more tips on finding inexpensive Cricut supplies? Read this post, How to Save Money on Cricut Craft Supplies.
What Cricut Accessories Do I Need?
Cricut Essentials make putting the pieces together a joy. From tweezers that handle delicate parts to Cricut EasyPress for foolproof iron-on, every Essential makes a great project even greater, every step of the way. These are the Cricut Tools & Accessories I recommend for the serious crafter:
Cricut Easy Press
I highly recommend purchasing the Cricut Easy Press if you plan to do any iron-on or heat-transfer projects. The Cricut Easy Press will make your Cricut DIYs so much easier!   The Cricut Easy Press comes in 3 different sizes, however, I own the 9 x 9 and it's the perfect size for most projects.
–>>Get the Cricut Easy Press here!
Cricut Easy Press Mat
If you purchase the Cricut Easy Press, don't forget to get the coordinating Easy Press Mat, which will protect your surfaces and projects from burning. Alternatively, you can use a folded towel, however, the mat is sleek and easier to store in the craft room 😉
–>>Get the Cricut Easy Press Mat Here!
Cricut Bright Pad
The lightweight, low-profile Cricut BrightPad makes crafting easier while reducing eye strain. It illuminates fine lines for tracing, cut lines for weeding, and more.
–>>Get the Cricut Bright Pad Here!
Cricut Cutting Mats
I suggest having a variety of cutting mats that are customized to match the weight of commonly used crafting materials. With three different mats specifically designed to work with different weights of materials, you can ensure success in all your projects.
–>>Get the Cricut Machine Mat Variety Pack Here!
Cricut Tool Set
You will thank me later for telling you to just get the Cricut Tool Set instead of buying each tool individually! The tools included in the Cricut toolset are all helpful when using your Cricut machine.
–>>Get the Essential Tool Set Here!
My favorite non-Cricut brand materials
You can find other brands of vinyl, iron-on, contact paper, and more outside of Cricut.com.   A few of my favorites are: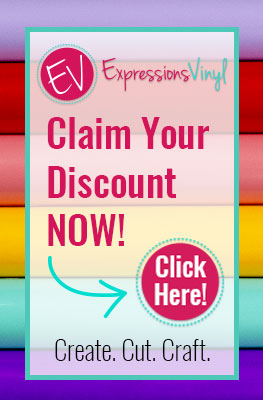 Learning how to use your Cricut is really easy and fun once you get the hang of it. If you don't have a Cricut Access Membership, I highly recommend it. I've had a Cricut Access Membership for years and it's definitely worth the cost for all the benefits!
My favorite online resources to find SVG files to make Cricut craft projects:

–>>Click here to see the latest bundle with the best SVG files at Design Bundles!
–>>Click here to get Unlimited access to over 4 million fonts and designs for just $1!
CRICUT ARTICLES YOU MIGHT ALSO LIKE…
How To Choose a Cricut Machine
I bought my first Cricut machine in 2013… it was called the Cricut mini and was one of the first Cricut machines that didn't have a keyboard. It was a great machine but as soon as Cricut released the Cricut Explore machine in 2014, I quickly bought it. A year later Cricut released the Cricut Explore Air and I bought that too. Then in 2017, Cricut released the Cricut Maker Machine and of course I bought it too. So you can say I'm pretty experienced with Cricut machines and have in-depth knowledge about using Cricut and various Cricut projects.
–>>If you want a Circut Machine but aren't sure which machine is for you, be sure to read this post, How to Choose Which Cricut Machine is Right for you.
32 Easy Cricut Projects for Beginners
I love learning about new Cricut projects and Cricut Explore Air 2 Projects, but some Cricut crafts seem more advanced than others. I put together this list with Easy Cricut Projects for Beginners to help others find Cricut tutorials for beginners and free Cricut projects. Most of the projects featured in this post can be made using a Cricut Explore Air and Cricut Explore Air 2, but some of these beginner projects require a Cricut Maker Machine (Cricut beginner projects using fabric).
–>>If you've had your Cricut machine for some time but are scared to use it, you should try these 32 Easy Cricut Projects for Beginners.
How To Save Money on Cricut Supplies
I love finding a good deal on Cricut vinyl craft supplies and I tend to stock up on Cricut craft supplies during sales (Cricut.com has the best Black Friday sale!) but Cricut supplies can be expensive! One question I'm frequently asked is where can I buy Cricut supplies? Well, not only will I share where you can buy Cricut supplies, but where to find discount Cricut supplies! My favorite store to find Cricut supplies cheap is the Dollar Store.
–>>Want more tips on finding inexpensive Cricut supplies? Read this post with, 30 Cricut Craft Supplies from the Dollar Tree.
15 Cricut Project Ideas Using Scraps
These 15 Cricut Project Ideas Using Scraps are easy Cricut projects that a Cricut beginner can make! If you have scrap Cricut craft materials and are looking for Cricut projects using Cricut Design Space and a Cricut Explore machine, this post is for you! This post is filled with Cricut project ideas inspiration and fun Cricut projects using vinyl, heat transfer (HTV), cardstock, and more! Don't throw away those small pieces of leftover vinyl, iron-on, or cardstock! Save your Cricut scraps to make these fun Cricut Projects Using Scrap materials! Keep reading to find 15 Easy Cricut project ideas to use up those extra bits of Cricut vinyl, Cricut iron-on, and Cricut cardstock.
–>>Read the full post, 15 Cricut Project Ideas Using Scraps here!
Pin this post to your Favorite Pinterest Board
Psssssttt…Right now I'm offering FREE access to our Digital Resource Library to all of our newsletter subscribers.  Your private access includes dozens of free printable crafts, home decor and Cricut SVG Files!  Hurry up and grab your freebies here!  (Access instructions are sent after subscribing).
Disclaimer: This post may contain affiliate links or a sponsored post. All opinions are always 100% mine and I don't partner with any product or company that I don't use and love. Please see our Full Disclosure for more information.
Cricut Craftfest