Soups are one of my favorite meals to make. They are super easy to make in a crock pot and are budget friendly since you can use leftovers and inexpensive ingredients. Soups also contribute to a healthy diet with the right proteins and vegetables. We eat soup on a regular basis in our home during the winter months and this month I decided to make a different soup every day (31 different soups!). Here are 31 days of healthy frugal soups (slow cooker and freezer friendly) for simplified meal planning!
TIP:  Freeze half of each recipe and you will have 31 more meals for next month! Be sure to check that each recipe is freezer friendly, some creamed based soups do not freeze well.
Butternut Squash Soup
From My Baking Addiction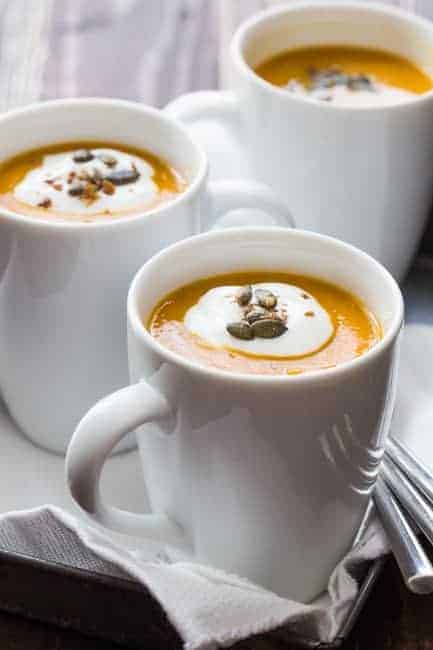 Vegetarian Chili
From The Endless Meal
Italian Wedding Soup
Cauliflower and Butternut Squash Soup
From The Sparkle Kitchen
Chicken Wild Rice
From Pinch of  Yum
Unstuffed Cabbage Rolls Soup
From Moms Need to Know
Chicken Tortilla Soup
From Skinny Mom
Mexican Black Bean Corn Soup
From Forks Over Knives
Broccoli and Pea Soup
From Frugal Feeding
Vegetable Barley Soup
From Cookin Canuck
White Chicken Chili
From Tablespoon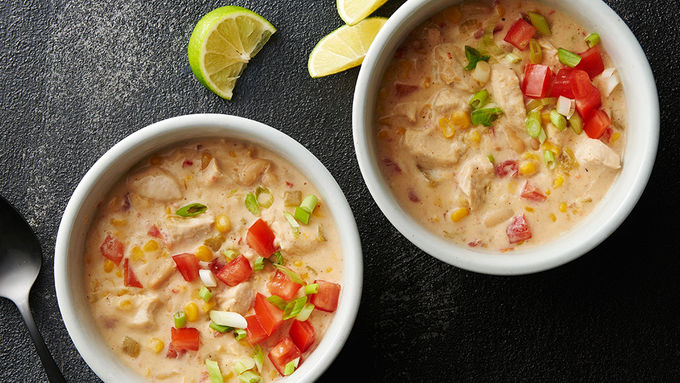 Chicken Noodle Soup
From Cooking Classy
5 Bean Quinoa Soup
Chicken and Lentil Soup
From SkinnyTaste
Tuscan Bean Soup
Tomato Basil Soup
From Simple Made Pretty
Kale Quinoa Soup
From Damn Delicious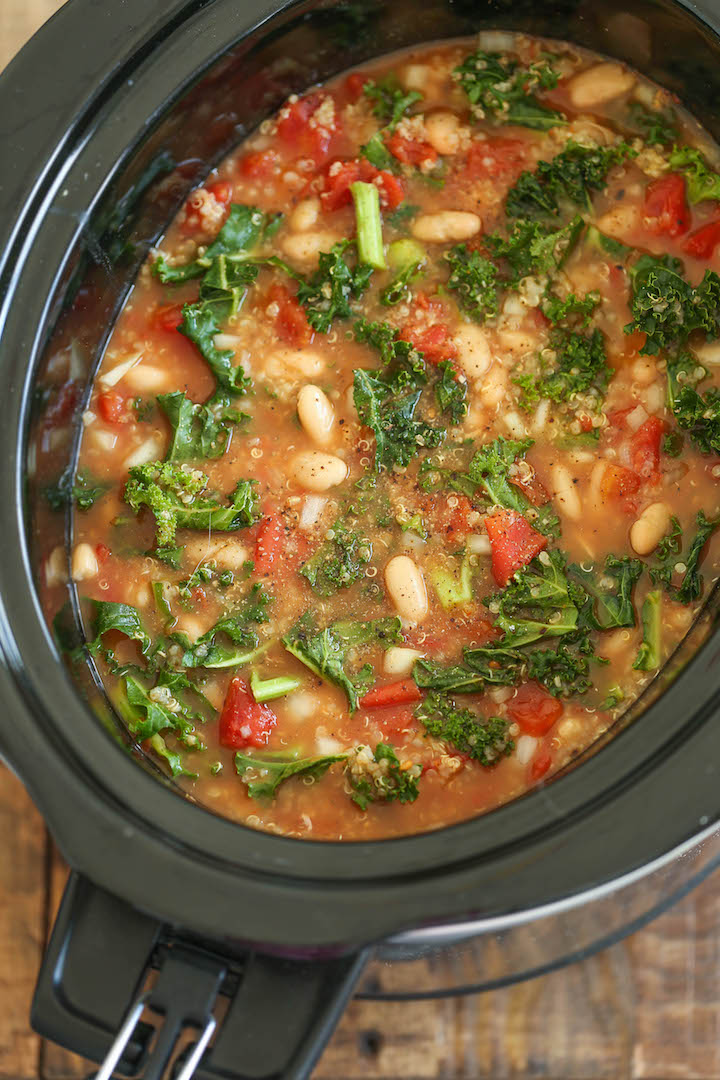 Traditional Chili
From Chowhound
Chicken Pot Pie Soup
From Gimmie Some Oven
Chicken and Corn Chowder
From Creme de la Crumb
Split Pea Soup
From Tabs and Tidbits
Pumpkin Soup
From Over Sixty
Kale and Potato Soup
From SkinnyTaste
Roasted Sweet Poato and Carrot Soup
From BBC Good Food
Turkey Chili Taco Soup
From SkinnyTaste
French Onion Soup
From Gimmie Some Oven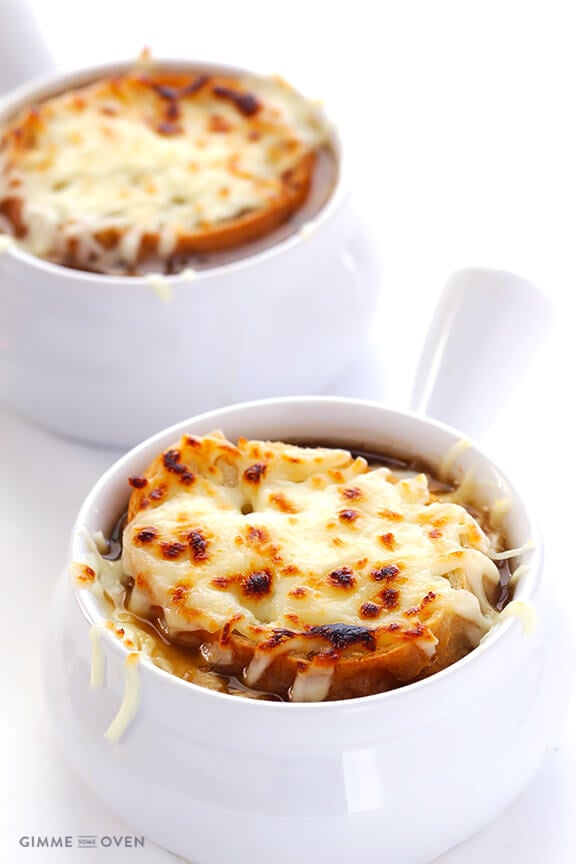 Lasagna Soup
From Carlsbad Cravings
Minestrone Soup
From Family Fresh Meals
Creamy Zucchini Soup
From Avocado Pesto
Navy Bean Bacon and Spinach Soup
From SkinnyTaste
Veggie and Wild Rice Soup
Another crock pot recipe that is also freezer friendly! From Where You Get Your Protien
Try out a few of these soups or try them all like I did this month!
Want more healthy recipes?  Follow me on Pinterest HERE!
Popular Kitchen Soup-Making Gadgets:
Soup Serving Bowl
SkinnyTaste's cookbook (which features tons of slow cooker meals)!
Meal Planning Printables
Lastly, to be the most successful meal planner and cook in your home, grab this bundle of printable meal planning cheat sheets and checklists.
The Meal Planning Bundle includes:
ONE (1) Cheat Sheet with Dinner Ideas for Mon-Sun (each day is a different meal category to simplify things even more!)
ONE (1) Detailed Menu Planner Form (Breakfast, Lunch, Dinner, & Snacks – Mon-Sun)
ONE (1) Dinner Only Menu Planner Form (Mon-Sun)
ONE (1) Cheat Sheet with Breakfast/Brunch, Lunch, and Snack Ideas (use as a reference when meal planning)
ONE (1) Pantry Staples Cheat Sheet (use as Inventory Checklist when making your shopping list)
ONE (1) Meal Planning Checklist (To-Do list for the beginner meal prep and meal planner)
Get instant access to the only printables you need to master meal planning today!
Now you know what you need in the kitchen to make meal planning, prepping, and cooking so much easier!
The Ultimate Healthy Meal Planning Bundle
Are you making your life more difficult than it needs to be?
If you've ever stood in front of your fridge, hoping that this time when you opened the door, you'd find thawing meat, or maybe a little inspiration, or even – miracle of miracles! – a ready-made meal, I totally get where you're coming from.
There's one thing I can think of that will help… meal planning.
When you know what's for dinner every day, you'll be more efficient, less stressed, and you'll have more margin in your life. While meals won't throw themselves together, you might be surprised at how much easier (and even enjoyable) it feels.
You probably already know that, but do you want a way to make it even easier?
The Healthy Meal Planning Bundle 2019 is on sale now and it will help you put healthier meals on your table, in less time, with less stress.
With over 1000 recipes, a clickable index, ready-made meal plans (with grocery lists), nutritional information for every recipe, and more, the Healthy Meal Planning Bundle is designed to save you from the pain of the frantic, pre-dinner hour. 😉
I have the Healthy Meal Planning Bundle myself and it's full of amazing recipes and info that has already helped my family with healthy meals and eating better ????
–>>Go here to get the Healthy Meal Planning Bundle
Pin it for later…
You might also like…
Psssssttt… Want more inspiration delivered directly to your inbox? Subscribe to our FREE weekly newsletter! We provide simple ideas for Organizing, Time Management, Handmade Projects, Crafts, Home Decor and more!  Hurry up and sign up here! 
Disclaimer: This post may contain affiliate links or a sponsored post. All opinions are always 100% mine and I don't partner with any product or company that I don't use and love. Please see our Full Disclosure for more information.