Dollar Tree Teacher Gift Ideas
I'm all about saving some money and making gifts to give to others, including my kid's teachers! Instead of spending a ton of money on teacher appreciation gifts, I decided to make a few crafty gifts that I knew my kid's teachers would love (and share some of the awesome ideas I found with you too!). Check out these Dollar Store DIY Teacher Appreciation Gift Ideas so you can save some money while giving unique Teacher gifts this year!
What to give your teacher DIY?
There are several homemade gift ideas to give a teacher. Keep reading to see some easy DIY teacher gift ideas!
What kids can make for teachers?
Kids can make teacher gifts using arts and craft supplies as well as free printables like the ones featured in this post.
What are thoughtful gifts to teachers?
A thoughtful teacher gift is one that you know they will enjoy personally. Find out if the teacher enjoys Starbucks coffee, and likes dogs or ice cream to come up with personalized teacher gifts.
What is a simple gift for teachers?
A simple teacher gift idea is to attach a gift card to her favorite store or restaurant to a cute teacher appreciation printable like the ones below.
Thank You Note Free Printable
A thank-you note written to teachers is a special gift. And Suburban Mom designed this free printable teacher Thank You note to be adorable. Print on a color printer and let your child fill in the blanks. Their teacher will love this heartfelt gift.
Supplies to make the teacher note:
Free Printable from Suburban Mom
Copy Paper from Dollar Tree
Color Printer
Printable Popcorn Tag
How easy is this fun Printable Popcorn Tag from Mama Cheaps? Teachers can enjoy their popcorn in the teacher's lounge or at home watching their favorite movie. Buy a big box of popcorn and gift to all the teachers at school!
Dollar store supplies to make the teacher popcorn gift:
Printer Paper
Color Printer
Scissors
Glue
Free Printable from Mama Cheaps
Teacher Hand Sanitizer or Soap
My favorite hand sanitizer is blood orange from Grove Collaborative. I just LOVE the smell and so will teachers. Or grab a bottle of hand sanitizer from Dollar Tree (they all do the same job, right? Add this adorable printable gift tag from Eighteen 25 for a quick and thoughtful gift!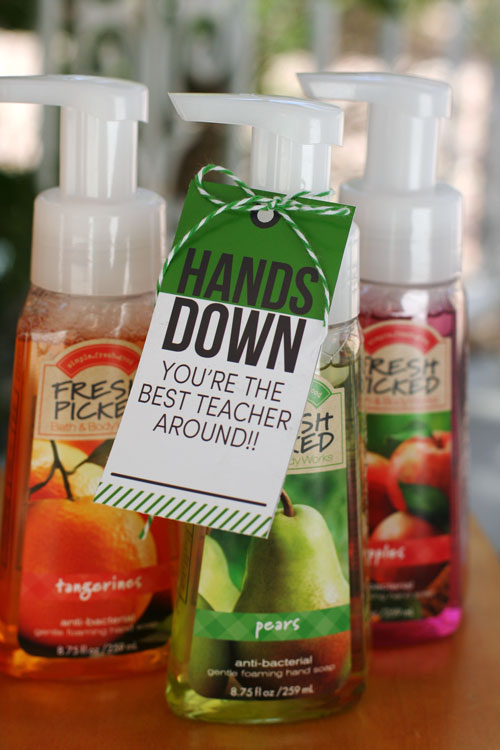 Supplies to make the teacher soap gift:
Free printable tag
Twine
Soap/Hand Sanitizer
Teacher Gum Gift Idea
Dollar Tree sells Extra Gum and this printable gift tag from The Pennywise Mama is perfect to give teachers as a "thinking" of your gift idea, stocking stuffer, or part of teacher appreciation week.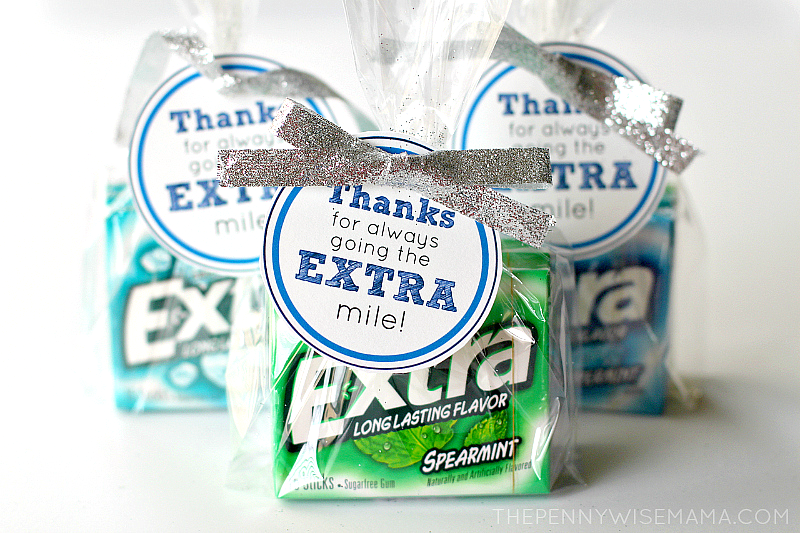 Dollar store supplies to make:
Free Printable Tag
Ribbon
Gum
Cellophane Bags
Personalized Teacher Note Cards
Print these personalized note cards from Simple Made Pretty and your child's teacher will have Thank You notes to send back to you for your thoughtful gift!
Teacher's Emergency Stash
Every teacher needs a candy stash with their favorite cravings, am I right? Find the free printable gift tag from Eighteen 25  to make this fun gift!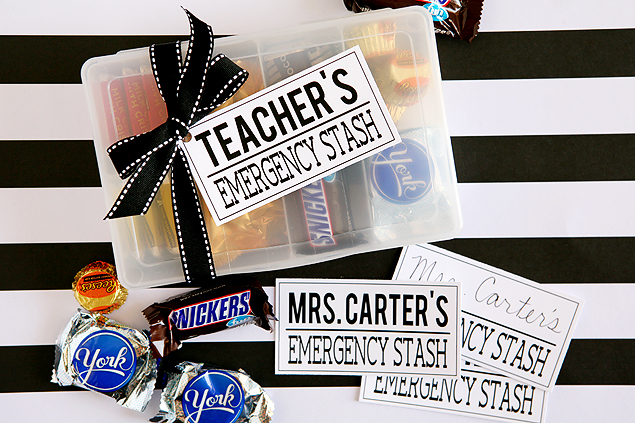 Printable Candy Bar Wrappers
Speaking of candy, why not give a classic candy bar wrapped in a sweet message? Simple Made Pretty makes it easy to print these candy bar wrappers, attach to chocolate bars, and write a little message.
Printable Teacher Gift Card Greeting Card
One of the easiest Teacher gift ideas is to attach a gift card to a printable card. You can find several themed gift card printable card that you can Download and Print today! Find out the teacher's favorite restaurant, coffee shop, or store. You can't go wrong with a Printable Starbucks teacher card, a Target Teacher Card, Dollar Tree Teacher Card, or Amazon Teacher Card.
Teacher Snack (Nut) Gift Ideas
Yes! Dollar Tree sells nuts that are perfect to give teachers a little snack time. Add this cute printable tag from Little LDS Ideas to complete the gift!
Teacher Mugs with Gift Tags
How many mugs can a teacher have? If they don't use them for coffee, they can use them for plants, candles, a pencil holder, and more! Simple Made Pretty came up with 6 different beverage/food mug gifts and has free printable tags to go with them!
Teacher Appreciation Poem
This little poem is so sweet from Productive Pete is too sweet for words 🙂 Your teacher will enjoy receiving a kind poem like this one!
Cold & Flu Supplies for Teachers
This gift is the best, especially during cold and flu season! Grab the free printable from Mama Cheaps, a cute bucket, Clorox wipes, tissues, and hand sanitizer to create this thoughtful teacher gift.
Personalized Teacher Drink Koozie DIY
from Simple Made Pretty
"Mani" Thanks Nail Polish Teacher Gift
These little nail polish bottles and free printable cards from Lolly Jane are too cute! Print and attach to a bottle of nail polish for a thoughtful teacher gift.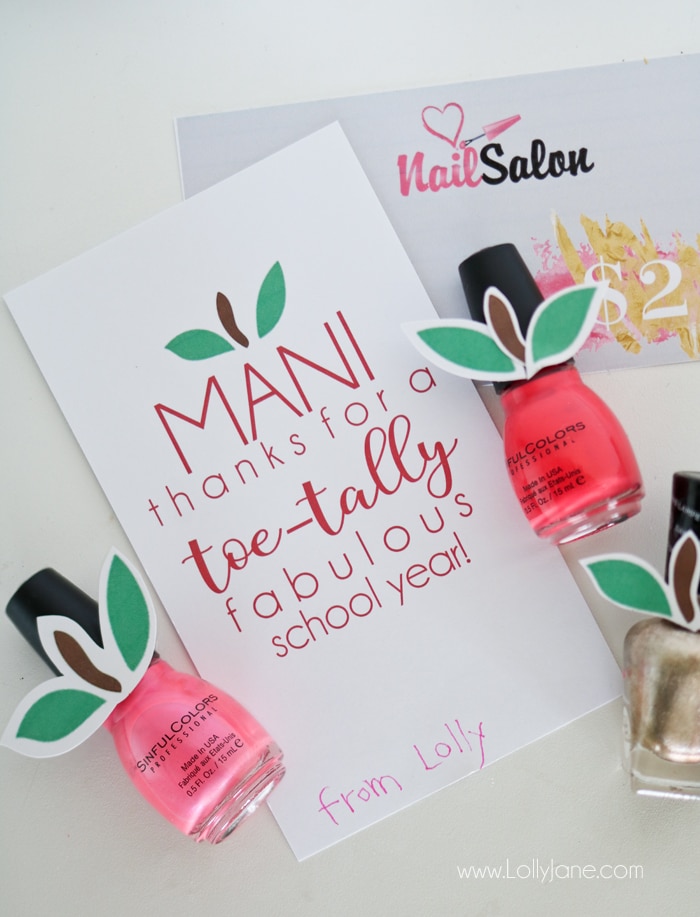 Dry Erase Marker Gift
Teachers are always running out of dry-erase markers so this gift idea from the Happy Scraps will come in handy! Grab a package of dry-erase markers from Dollar Tree and add the free printable tag for a cheap and easy teacher gift!
Teacher Wine Glasses DIY
If you have a Cricut or Silhouette cutting machine, head over to this post from Simple Made Pretty to download the free SVG file to make these glasses. The wine glasses are from Dollar Tree and can be filled with your teacher's favorite treats!
Sharpie or Colored Pencils Teacher Gift
Another marker that teachers always need more of is Sharpie markers. This cute card from The Cents Able Shoppin also works on highlighters, colored pencils, or crayons… depending on what supplies the teacher needs!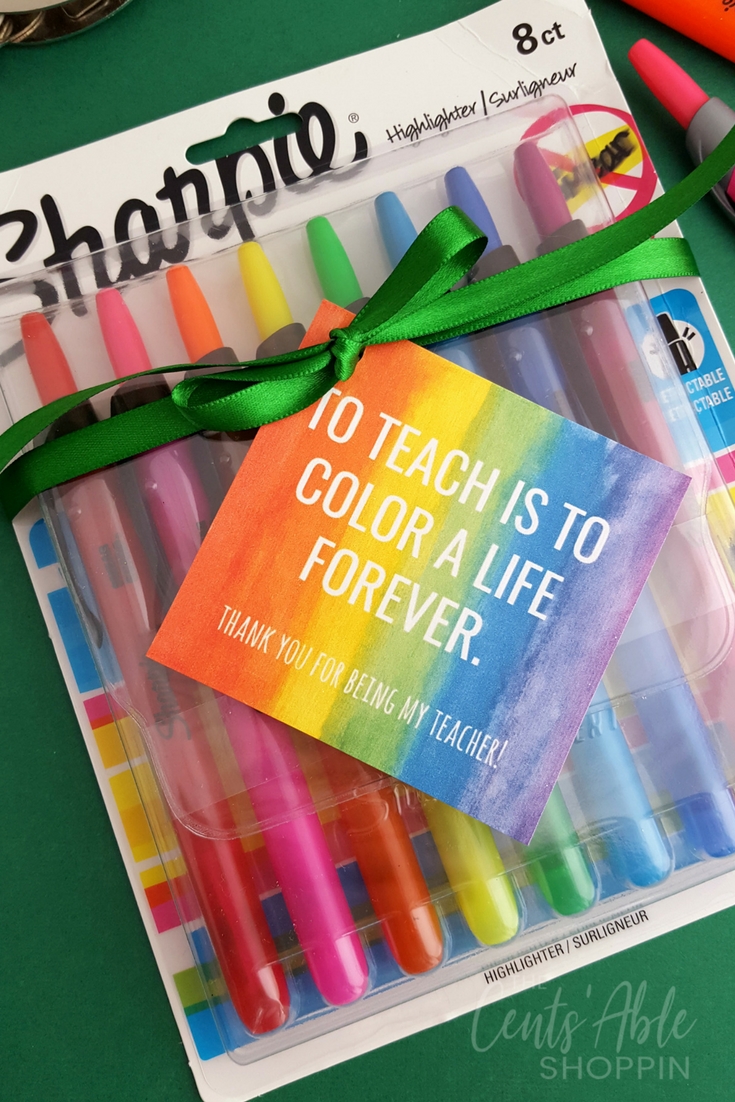 School Supply Cake
A cake that won't put on the pounds! How thoughtful, hehe. Find the tutorial to make this School supplies cake using pencils and other classroom supplies from Hometalk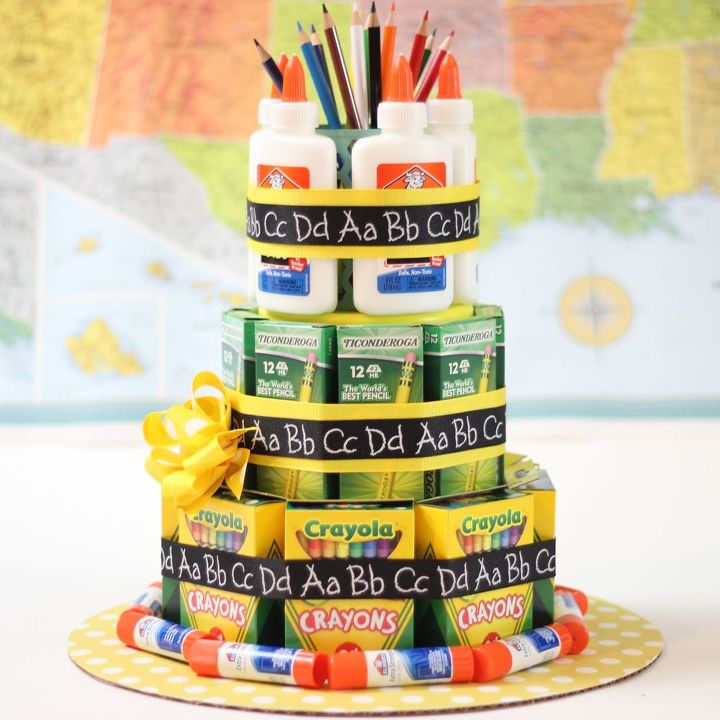 Rolo Candy Teacher Gift
Wrap up some candy in a cute pencil themed printable from Skip To My Lou to make this sweet teacher gift!
Notebook Teacher Gift
Use this free printable gift tag from Crazy Little Projects along with a Dollar Tree notebook or day planner to give thoughtful gift to your teacher.
Thanks for being "De-Pen-Dable" Teacher Gift
Give your teacher a fun pen (or her favorite pen (we all have them, hehe) along with the free printable gift tag from Gifts Detective
Teacher S'Mores Gift
S'more are great for any time of the year and this free printable teacher gift tag from Crystal and Co.  completed this sweet gift idea! Just add the ingredients to a cellophane bag for an easy Dollar Store teacher gift idea.
DIY Lemon Sugar Scrub Teacher Gift
Sugar scrub is an easy DIY and basically just 3 ingredients that can be found at the Dollar Store. Place homemade sugar scrub in a Dollar Store jar and add this cute printable gift tag from Carmel Potatoes. I love keeping a jar or sugar scrub in our guest bathroom for guest to indulge too!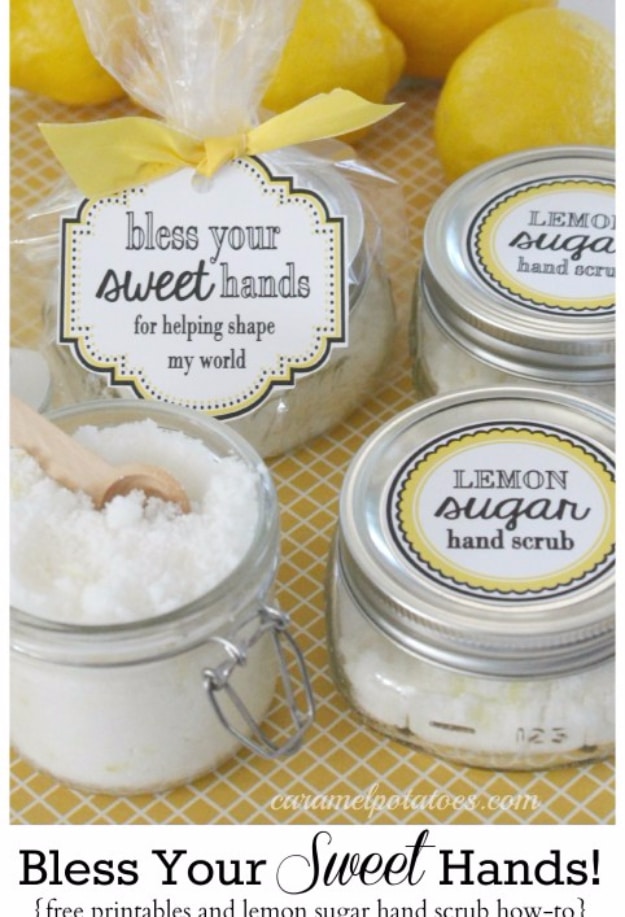 Post-It Note Teacher Gift
This free printable from The Happy Scraps is too easy to pass up! Grab a package of post-it notes from the Dollar Tree and add this cute tag for the easiest teacher gift ever!
Lip Balm Teacher Gift
Lip balm is a thoughtful gift for anyone, but add this cute teacher gift card from Design Addict Mom and you have a personalized teacher gift!
I hope this post gave you plenty of Teacher Dollar Store gifts ideas Save some money on Teacher gift ideas! Have fun trying some of these creative Dollar Store Teacher DIY ideas and let me or the creators of the printables mentioned in this post know that you enjoyed their free teacher gift printables!
Pin it for later…
Psssssttt…Right now I'm offering FREE access to our Digital Resource Library to all of our newsletter subscribers.  Your private access includes dozens of free printable crafts, home decor and organization guides.  Hurry up and grab your freebies here!  (Access instructions are sent after subscribing).
Disclaimer: This post may contain affiliate links or a sponsored post. All opinions are always 100% mine and I don't partner with any product or company that I don't use and love. Please see our Full Disclosure for more information.
Dollar Tree Teacher Gift Ideas