Upcycle Greeting Cards with these hacks
If everyone has been sending you a holiday Christmas card and you probably have a stack sitting in a basket or your kitchen counter, right? Although many people try to go paperless these days, there are still many that send holiday cards.
The hubby and I have sent a holiday card every year since we've been a couple (even when we were just dating!). I hate to be the cause of paper clutter in someone else's life so if you are reading this and received a card from us, please know it is okay to recycle it! For those of you that like to keep holiday cards, here are 20 things to do with Christmas cards.
How to Display Christmas Cards
Here are some unique ways to display Christmas cards in your home!
Try a DIY hanging Christmas card holder using clothespins and ribbon, like Unoriginal Mom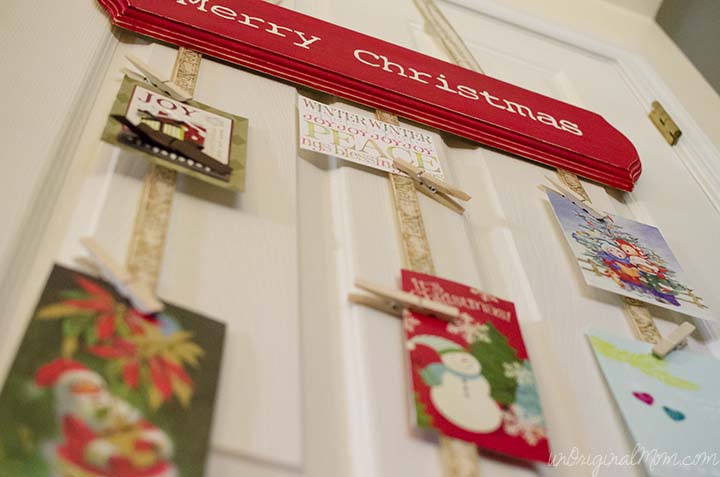 Make a washi tape tree on the wall like Tyme is Honey
Make a chicken wired frame like Lolly Jane 
Display cards on a DIY Christmas card wreath using greenery and ribbon from Lynnae Mccoy
Hang yarn in a window to display cards (source: Walmart)
Attach cards to garland framing a doorway (source:  BHG)
What Can I do With Old Christmas Cards?
Here are some ideas with how to make art projects with old greeting cards… like ornaments made from old Christmas cards, reuse Christmas card crafts ideas, and what to do with old cards you want to keep. Let's find some new uses for old Christmas cards!
Repurpose them into crafts
DIY an ornament like Scoutie Girl did HERE
Craft photo ornaments like Clover Lane
Make a holiday garland like Party Planning Center HERE
Or try this simple Christmas garland from Learning 4 Kids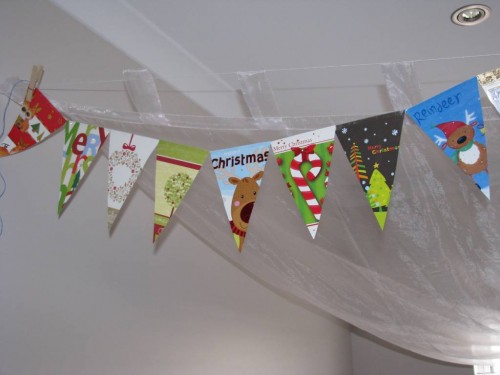 Make these bookmarks like The Frugal Girls
This DIY Merry Mail board is super easy to make to display cards from Simple Made Pretty
Try making DIY placemats or coasters using old cards (source: Wiki How)
How to Make Box Out of Christmas Cards
Make rubrics cube-like If I Had a Million Hours
Make these busy bag puzzles using popsicle sticks like Life Kids and Pursuit of Sanity
Can you Recycle Photo Christmas Cards?
Create a keepsake
Turn old cards into a DIY photo album like Simple Made Pretty
Make a holiday photo collage sign (source: Pinterest)
Use them next Christmas
I love how Pumpkin Princess Pudding Pie turned Christmas cards into gift tags using a large gift tag puncher.
Use them to make an advent calendar like Craftastica
Make boxes to use for gifts next year like Studio Artworks
Make Christmas cards from the old card like Happy Strong Home
These are some great ideas and I think I'm going to try a few of these out for myself this year!
Pin it for later…
Psssssttt…Right now I'm offering FREE access to our Digital Resource Library to all of our newsletter subscribers.  Your private access includes dozens of free printable crafts, home decor and organization guides.  Hurry up and grab your freebies here!  (Access instructions are sent after subscribing).
Disclaimer: This post may contain affiliate links or a sponsored post. All opinions are always 100% mine and I don't partner with any product or company that I don't use and love. Please see our Full Disclosure for more information.
Reusable Christmas Cards